Want to make the leap into a cheesy life, but you're unsure how?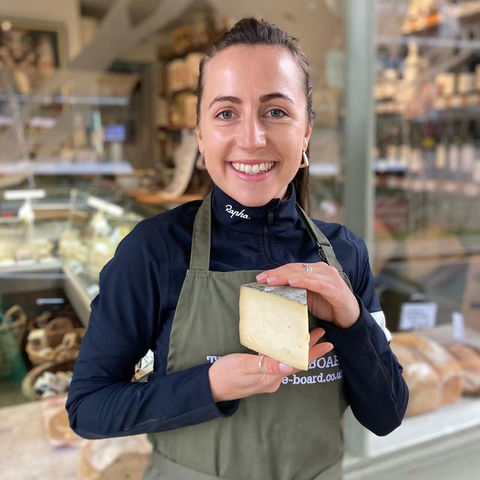 This is Lucy and she has a multi-hyphen career. Passionate about teaching and passionate about cheese, she's works part-time in both worlds. She's a runaway success at our cheese pairing evenings, combining her teaching skills and cheese knowledge during evenings at our local pub.
At the Cheeseboard we love our multi-hyphen members of staff – whether they're actors, social workers, pilates teachers, chefs or students – their energy, enthusiasm and knowledge is all appreciated in our corner of West Greenwich. 
Lucy came back to London after teaching French overseas and had never worked in cheese before. But when she told us she was spending her summer on a French farm, making cheese, that she'd already completed her Level 1 Academy of Cheese qualifications and told us some of the feasts she creates for her friends and family, we knew we could teach her everything else about working for the Cheeseboard.
We are at the heart of our community with regulars coming in for a chat as much as to try our cheese – so our staff need to love people and food equally. 
If you've always had a passion for cheese but wondered how you could ever walk away from that corporate job, we have an opportunity for a one-day-a-week role at the moment. We're looking for someone to work on Fridays, and possibly some school holidays.
If you're interested in finding out more, answer these three questions:
Which cheese is made backwards?
When do you eat your cheese – before or after dessert? And what's your favourite cheese – no judgement?
The right candidate will have the opportunity to do Level 1 & 2 Academy of Cheese qualifications
Will want to work Fridays and probably more in the school holidays
Email with your CV and answers. Welcome to the cheesy world of multi-hyphens! 
---