Known locally as Mr Cheese, Michael Jones – part man, part cheese – opened our picturesque cheesemongers in Greenwich, SE London in 1985. He was only 19, and now, nearly four decades later, he can still be found behind the counter, a little greyer, but with the title of the "Grand Fromage". Over his career in food he has appeared as a contestant on the BBC's Masterchef and opened a butchers, Drings, and fishmongers, Ellis & Jones, either side of The Cheeseboard on Royal Hill and Circus Street in Greenwich.
Over 100 cheeses
Michael has always stocked artisan cheeses, made in small batches at farms in Great Britain and Europe, changing with the seasons. In the fridges and online we have well over 100 different cheeses, all carefully selected and cared for by our cheesemongers.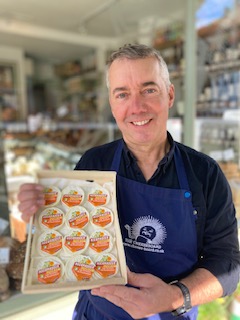 Deli food too
Our counters are groaning with home made goodies like plum frangipane, focaccia, biscuits, vegetarian quiches and soups made by our resident chef and caterer, Becky, and we stock breads from local bakeries like Charlton Bakehouse, Fingals and Paul Rhodes. At the weekend we have Brick Lane bagels and Babelle canales.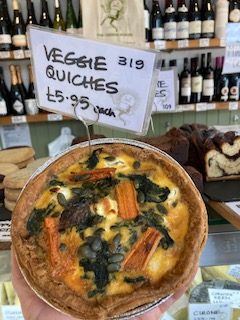 We are very, very proud to have participated in a scheme for small local businesses to use electric cargo bikes for deliveries within a few miles of our shop. Thanks to Sustrans, the walking and cycling charity, the Mayor of London and Greenwich council, we have a wonderful bike which you'll see us whizzing around making local deliveries as far as Canary Wharf (if the Greenwich foot tunnel is open!). These local deliveries kept many of our regular customers going during lockdown and we loved being able to keep them stocked up with delicious food and a chat at the door.